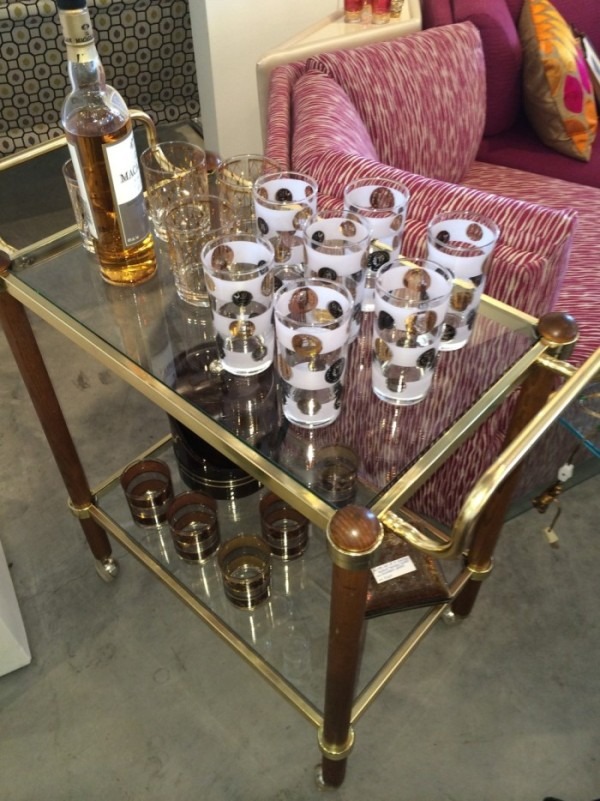 Bar Carts are Back!
What is a bar cart?
− Also called "trolley"
− Basically a stylish, portable, well-stocked bar
− Most definitive features are wheels and shelves (usually glass)
− Used for ease of entertainment
− Holds beverages, barware, glassware, and accessories – everything you need for entertaining or having a night in
What's the origin/backstory?
− 40's: end of prohibition – people start to need a place to store all their alcohol
− 50's and 60's: classic Hollywood movies and the "cocktail hour" era. Alcohol and the way you served it connoted sophistication and glamour. I mean, who hasn't heard the famous James Bond phrase "shaken, not stirred?"
− 70's and beyond: the style shifted to built-in "wet bars" with running water and cabinet space. And with this, the bar cart was out. What this permanent home bar system gained in functionality, it sometimes lost in elegance.

Okay, then why is it coming back?
− Return to the classics – vintage stuff is back in (hello, mrspkandoz! :D)
− Portable – easy to transition between indoors and outdoors… hint: pool party
− Gives an air of luxury – high-end restaurants in NY, LA, and other fashion-forward cities have adopted the practice of tableside bar service
− Multipurpose – they can be used for storage, serving meals, or displaying art. They can also function as a permanent decoration in a room just as a dresser or vanity would.

So how do I style a bar cart in my home?
− Where to put it – dining room, patio/outdoor entertainment area (bamboo is perfect for outdoors!)
− Main elements include:
− a serving tray
− your favorite bottles of wine and spirits
− glassware – try these jet-blue tumblers for a pop of color in summer!
− a luxurious gold cocktail shaker
− all the accessories (our 16 favorites can be found conveniently in our "bar in a box"
− menu and/or towel

Have fun bringing mid-century style into your home!
mrspk